Kartuska Collegiate
Collegiate Church of the Assumption of the Blessed Virgin Mary in Kartuzy is the remnant of the Order of Kartuzów monastery. The monastery church was built between 1383-1405.

The original roof in the shape of a coffin and a Baroque cupola dates from 1731-1733.

In the interior of the chancel is a valuable equipment: Gothic altar, rich Baroque stalls, the throne of the prior, wooden benches with seating for religious fathers, upholstery goat or donkey leather cordovans and Flanders.
All this makes it One of the most interesting temples in Pomerania.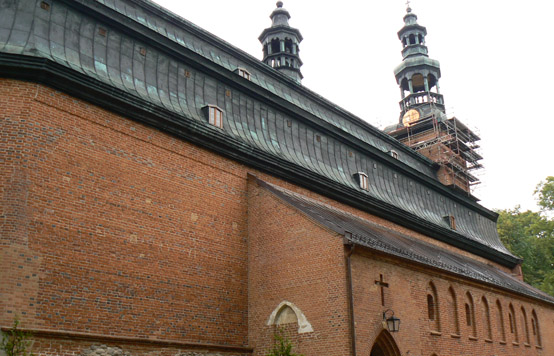 Kartuska Collegiate created through the generosity of two people: John, the Kashubian gentleman form Różęcin, who gave the monks land, and by John Thiergart – patrician from Gdansk – funder of the church.

Church gained its distinctive Coffin – like roof in the first half of the eighteenth century, when it was replaced with a gable roof coffin shaped lid, referring to the religious greetings "Memento mori," which in Latin means "Remember death".

Assumption of the Blessed Virgin Mary Church has been opened to the faithful until the nineteenth century.