Heritage Park in Szymbark
Szymbark is a village located in the Pomeranian province on the Kashubian territory. This town is located in one of the most beautiful tourist places in the Kashubian Switzerland. Additionally, this village is situated in the heart of Kashubian Landscape Park, also there are other tourist attractions.

In szymbarski forest you can find an unusual and unique Center for Education and Promotion of the Region, to which guests today come from all over the country and the world. Here beats the true heart of Kashubia!

In this particular spot, tourists can learn about the history, language and Kashubian culture. All visitors can see and learn more about the things that for Kaszubians are obvious.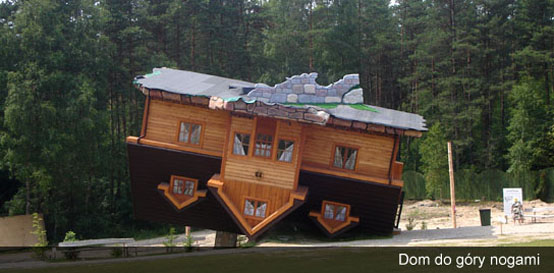 In addition to interesting and important information about Kashubia, you can learn about traditions and customs. You can visit:
House standing on its head

Sybriak's House

World's Longest, Wooden Board

Monument of Pomeranian Griffin

Bunker of Pomeranian Griffin

Manor Salino

St. Raphael church.

and many other attractions.

Ticket prices:
for individual tourists - 9 zł. / Person

for groups - 7,50 zł. / Person

Children up to 6 years - free admission

no discount for senior citizens

Hours:
The Center is open to tourists all year.
On weekdays 9 AM – 7 PM
On Sundays and holidays: 10 AM – 7 PM.
November to the end of March the Center in open until 5 PM.