Wielewska Calvary
Sanctuary of the Passion was built in 1915-1927, designed by Theodore Mayr of Munich.

Motive construction of Calvary was the worship of Our Lady of Consolation sometimes enriched with patriotic motif (commemorating the victims of World War I). The initiator and builder of Calvary was the pastor, Fr. Joseph Szydzik. From October 1924 the construction continued Fr. Col. Joseph Wrycza on his own initiative created free-standing statues and pulpit in the shape of a boat with a sail.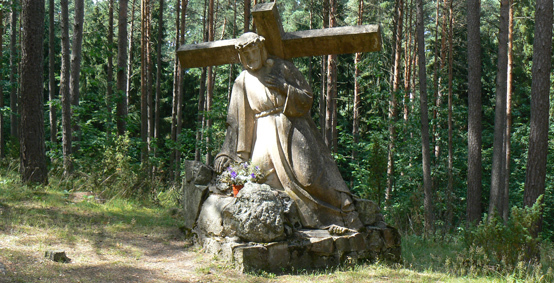 Land for the shrine gave the hosts the White Mountains - Anna and Michał Durajewski, buried in Calvary. The Calvary includes 23 objects: 14 chapels, 6 compositions carving, sacred stairs, pulpit, hermitage. In terms of size and form of the chapels are very diverse and reflects the mainstream of modernist architecture. Since 1962 Wielewska Calvary is entered into the register of monuments.