Museum of the National Anthem in Będomin
Museum of the National Anthem in Będomin
Eighteenth century manor house in Będomin, a small town near Koscierzyna, the birth place of founder Joseph Wybicki's national anthem. Currently, it houses the world's only museum of the National Anthem.
In the Museum presented are two permanent exhibitions. The first, entitled "Joseph Wybicki and his epoch," which shows the life and public work of Joseph and the background to the Wybicki "Dabrowski's Mazurka." Presents a historic mansion inside the Pomeranian nobility of the eighteenth and early nineteenth century.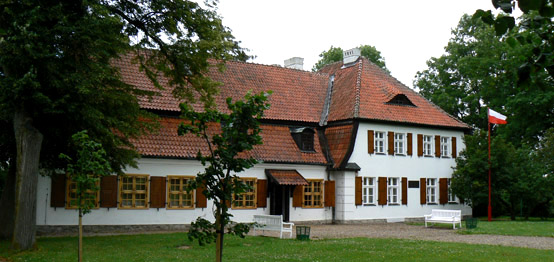 The second exhibition presents the role of "Dabrowski's Mazurka" in maintaining the national consciousness of Poles during the partitions and their struggle to regain lost the state, from the nineteenth century until after World War II period.
An added attraction is issued for the first time The first whole Wybicki family genealogical tree. The museum also includes a very valuable exhibits such as, National jewelry of the period of the January Uprising.
In the summer, temporary exhibitions and sport and patriotic events are organized. For example "Dabrowski's Mazurka Run" and "Picnic with General Joseph Wybicki" - And the historic outdoor event " Napoleonic Batalia".
The museum is open:

May 1 to September 30
9 AM – 5 PM - Tuesday - Saturday

10 AM – 5 PM Sunday

October 1 to April 30
9 AM – 3 PM Tuesday - Saturday

10 AM – 3 PM Sunday

Ticket prices:
normal 7 zł

reduced 3 zł

Family 15 zł

The fee for group tours guide is 40 zł.

Groups wishing to use the services of the guide are asked to call prior the visit: +48 58 687-71-83