Kashubian Kitchen
Kashubia has a rich heritage; one of the elements is a Kashubian kitchen, which uses a wealth of forests, lakes, orchards, meadows, fields and seas.

Kashubian Kitchen is closely related to people's everyday life, their work as well as the position you occupy in society. Meals were prepared and administered mostly in the afternoon, when the church bells tolled.
Kashubian dishes are delicious and easy to prepare.

Fish dishes in the kitchen is an essential attribute of the Kashubian region. Large quantities of fish are salted in barrels for winter frying on fasting days. When removed from the brine and well 'washed' in clear water taste fresh. Smaller quantities are fried on a regular basis. Where fishing is well developed fish form the basis for Kashubian food recipes. An example is the fish soup, which won second prize in the contest Our Culinary Heritage - Taste of the Regions and the nomination of Pearls (2008)

"When the fish has to be good, it must swim three times:
In the water, butter and in wine "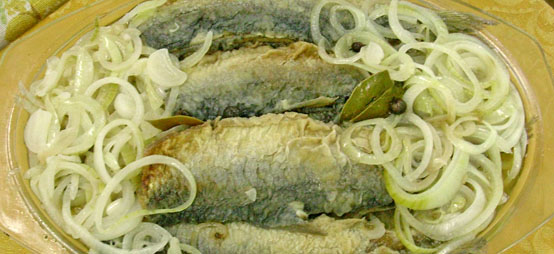 In the Kashubian kitchen certain habits prevail, that is because almost every household has farm animals and poultry.

Before the feast of Easter and Christmas, wedding or other important event was beaten ducks, geese and pigs slaughtered. Hens, which grew faster were eaten for Sunday dinner.

Geese slaughtered in November, as the old saying "On Saint Martin's Day goose is best". Every piece of pig's meat is used. Meat divided by purpose: to salinity, smoking, cooking and for making sausages. In every house there was no lack of lard. It is used on occasion with smelting pig-beating fresh bacon. Was actually based on the stocks of food. In each of the pantry had to be a stone pot with lard and cracklings. Recommendable is embellishment of geese who won a place for eco-Lauenburg dish.

Hunk of bread with lard is the only hope for the hungry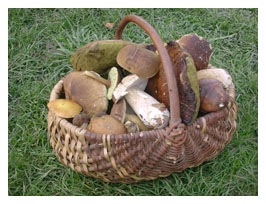 temptation for him, and glutton.
"From a fat fat meat soup"
Cereal products were a staple food for centuries. In Kashubia, rye, wheat, barley, buckwheat are a basic cereals, which are kneading the flour and grits. Traditional dishes with barley were staple diet. Densely eaten with milk, added to soups and some sausage. The corn be ground into flour, cereal and coffee have been formulated (kafeszrut). Flour was available in every home.
The first delicious dish of Kashubia were 'ruchanki', which are now served in the Ethnographic Museum in Wdzydze accommodation and agrotourism.
"A good hostess makes a pleasant home and is full in the chest"
Soup cooked very satiated and nutritious. Depending on the time of the year performing products from the fields, gardens and forests. Cooking them with meat, offal, bones, fish and fruit,with an addition of milk, buttermilk or cream derived from their own farm. A soup with turnip is worth recommendation (A 1st place for flavor in 2008 in Lauenburg).